CEE SaaS Index
While revenue multiples from publicly traded SaaS companies can provide a helpful starting point for valuation, currently available indexes are only based on US-listed SaaS companies, leaving the CEE region without relevant benchmarks, despite the region's thriving startup ecosystem and quadrupled VC funding over the last three years.
With projected growth and increased investment in CEE tech companies, a more appropriate valuation benchmark for regional startups and investors is required. To meet this need, Vestbee and the Warsaw Equity Group have collaborated to develop the CEE SaaS Index, providing a relevant benchmark for both regional and international investors.
CEE SaaS Index is a simple tool for startups and investors to value SaaS companies in Central & Eastern Europe based on revenue multiples from publicly traded SaaS companies from the CEE region.
Everything you need to know about CEE SaaS Index.
Companies included in the Index generate at least 50% of their total revenue from sales of SaaS products.
The Index is regularly updated on a monthly basis for valuations and quarterly basis for the list of companies in the index, their market cap, and revenue data (if available). Not all companies in the index report financial data on a quarterly basis.
Service providers, integrators, ecommerce stores, and ecommerce marketplaces are excluded from the CEE SaaS Index.
Current commentary on the index
Q1 2023
March 2023 CEE SaaS Index update: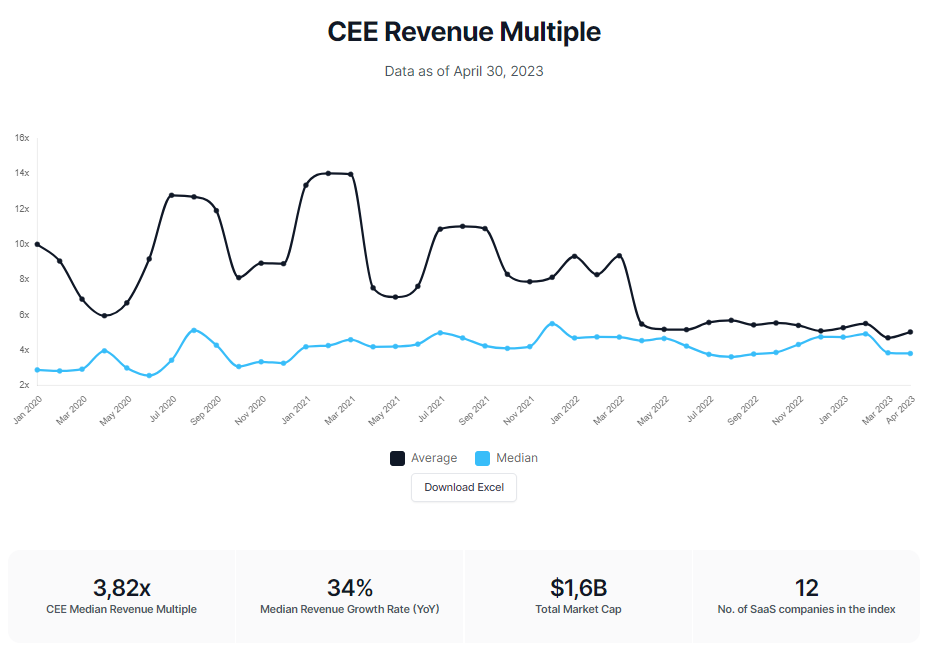 The median CEE revenue multiple at the end of March 2023 decreased slightly to 4,79x ARR.
This is 13% lower from the record of 5,51x at the end of December 2021.
August 2022 marked the lowest CEE revenue multiple (3,63x) since the start of the pandemic.
For comparison, the median US revenue multiple at the end of March 2023 slightly increased to 6,86x ARR (from 6,27x ARR at the end of February 2023), but is still 63% lower from its record high of 18,34x at the end of December 2021.
However, the long-term trend of decreasing valuation differences between ARR multiples in the US and the CEE continues – at the beginning of 2020 the median ARR multiple in the US was over eye-opening 3,5x times larger than in the CEE (10,32x vs 2,89x), and currently it's only 43% higher.